Partnership opportunities
About our company - LLC «Agro-Tema»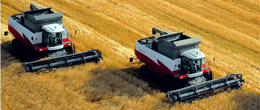 The company LLC "Agro-Tema" is a young fast-growing enterprise. It is presented on the Grain Market since 2012. The company's main activity is the export of cereals, legumes, oilseeds, and also the products of processing. In the beginning of its activity Turkey was the main focus of exported products, but passing the certain steps to strengthen on the Market and by qualitative and voluminous cooperation, the geography of our partner-countries has expanded significantly. Tried and tested skills and perspective acquaintances with new companies (who became our reliable partners afterwards) have played an important role in the improvement of the mechanism of conclusion contracts. In future this allowed us to position ourselves as a stable company really knowing its business.
Our policy
Under conditions of hard and competitive struggle for status and profits, at times many companies put the transparency of deals and openness to partners in the last place. We try to be original and find no sense in concealing it. So the aphorism - "tell the truth and be original" is suited to our principles perfectly.
Our aims
As our company was born in the high point of the financial crisis, its formation on the Market hardened us during our first transactions. But strong-willed attitude and firm resourcefulness of young employees headed by the Director Temukuev Kerim Kaisinovich have only aroused interest to the creative ways of solution of emergent problems. All of work which was done in such a difficult period for our country and its economy provided us with a qualitative experience in a short space of time. And now the whole thing contributes to the solution of assigned tasks as much as possible fast and coordinated.